Small Jobs
Dirty Deeds provides small job movers so you can get your small load moved professionally, saving you time and energy. It's hard to find small load moving companies until you meet Dirty Deeds. We actually started our moving company doing small moves and moving just a single piece of furniture for a local Fort Collins consignment shop. We are staying true to our roots. Dirty Deeds is your small move specialist. Our moving company is running a permanent special for small moves. The following offers for small loads are good for the local area of Fort Collins and 25 miles radius: Fort Collins-Laporte-Wellington-Ault-Severance-Timnath-Windsor-Loveland. Small job movers are available outside of the Fort Collins area. Please call or submit form request for non-local pricing. You won't need to worry about your small move being handled professionally. The Dirty Deeds movers have been with us 1 to 5 years. They have strength to expertly move items. The Dirty Deed small job movers provide a better experience compared to doing it yourself and compared with a company who sends out newbies.
One Item Move
The smallest of the small moves is the single item move. Dirty Deeds small job movers will move one item for $90. Dirty Deeds sends out your couch movers for an incredible value. The small job moving special is good for 1) moving just one piece of furniture in a box truck 2) moving furniture upstairs within your home 3) or picking up just one piece of furniture to haul it to donation or the landfill.

Redecorating your home is now fun, easy, and affordable
Two Items Move
Another type of small move is moving two items. Say you bought one new couch that needs to be picked up and delivered and then you have one couch to get rid of. It's only $110 for Dirty Deeds to be your couch movers! No other moving company offers both pick up and delivery combined with junk removal for such a great value. This deal is truly the one that earns Dirty Deeds the title "small moving specialist". Two items for $110 is the cost to 1) move two pieces of furniture in your existing home or to a new location, 2) get rid of two pieces of furniture, or 3) pick up and deliver one piece and get rid of a different piece.

In with the new and out with the old!
Three to Ten Items Move
If your small load of items to move is just a few pieces of furniture, then the cost is $130 per hour for 2 movers and one 15 feet box truck. There is a 1 hour minimum and no fees. Time starts at arrival and ends at destination. Pricing is incredibly upfront and simple to understand. Our small job movers have earned hundreds of five star reviews. Your small move will be handled professionally. If you need more moving help than just a few furniture pieces, we recommend a free estimate. Dirty Deeds movers provides a discount down to $120 per hour for 2 movers and one 26 feet moving truck when you accept a 3 hour minimum.

You have options for your moving help
Three to Ten Items Junk Removal
Sometimes you need to get rid of a small load. Maybe the pets scratched your couch and no one wants an old, damaged couch. The Dirty Deeds small moving specialists will pick up just your couch. Maybe your wood furniture does not fit in your new place so it is time to donate it. Installation of new appliances may mean you need us to pick up a few outdated appliances for recycling. Dirty Deeds junk haulers are the same guys as the movers so it is done fast and carefully. There is one simple price to you. $44 per cubic yard with $132 minimum. Our small job movers do the sorting into landfill, donation, and recycling. You won't have to run all over town or deal with different service providers. The Dirty Deed junk removal service saves you time as well as saves your back. Our small job movers protect your home while moving the furniture and appliances out.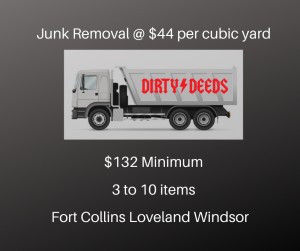 Get rid of junk fast and easy!